2015 - HolidayCheck:
HolidayCheck Award 2015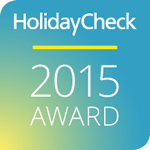 Meliá Las Américas Suites & Golf Resort, has recently received the HolidayCheck Award 2015 by positioning itself as one of the most popular beach hotels in Cuba. This exclusive five-star resort has yet again been singled out due to its top quality activities and popularity.
2014 - TripAdvisor:
Certificate of Excellence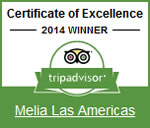 Award for the hotel's hospitality and popularity on the world's largest travel website, granted for achieving the highest score from its clients on a regular basis.
2014 - HolidayCheck:
HolidayCheck Quality Selection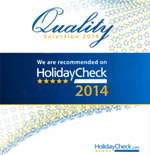 The HolidayCheck Quality Selection 2014 certificate is awarded to the hotels with the best scores on the HolidayCheck portal, the largest independent travel portal in German-speaking countries. This year's awards have been granted to the hotels that received a good overall rating on HolidayCheck in May 2014.
2014 - TripAdvisor:
Travellers' Choice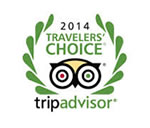 A recognition of the popularity of the resort in the world's largest travel site. The positive reviews from many travelers support its permanent presence in the "top ten" of Cuban hotels on TripAdvisor.