2015 - World Travel Awards:
Cuba´s Leading Resort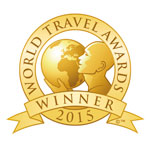 Chosen as the best resort in Cuba by the World Travel Awards 2015. These awards recognise and celebrate the undisputed market leaders in all the sectors of the worldwide tourist industry, and travel agents, tour operators, specialist media and guests themselves take part in the selection process.
2015 - World Travel Awards:
World Travel Awards
Nominated for Excellence Award in the categories of Best Resort in Cuba and Best Spa in Cuba. To support us with your vote, go to the website now 2015 Nominees for the World Travel Awards.
2014 - HolidayCheck:
HolidayCheck Quality Selection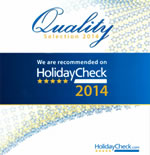 The HolidayCheck Quality Selection 2014 certificate is awarded to the hotels with the best scores on the HolidayCheck portal, the largest independent travel portal in German-speaking countries. This year's awards have been granted to the hotels that received a good overall rating on HolidayCheck in May 2014.
2007 - Thomas Cook:
Marque of Excellence
Awarded by clients in recognition of the high service standards and quality of the accommodations.