2014 - TripAdvisor:
Certificate of Excellence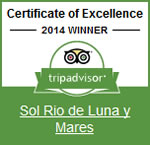 Award for the hotel's hospitality and popularity on the world's largest travel website, granted for achieving the highest score from its clients on a regular basis.
2014 - HolidayCheck:
HolidayCheck Quality Selection
The HolidayCheck Quality Selection 2014 certificate is awarded to the hotels with the best scores on the HolidayCheck portal, the largest independent travel portal in German-speaking countries. This year's awards have been granted to the hotels that received a good overall rating on HolidayCheck in May 2014.
2010 - Airtours - Thomas Cook:
Award of Excellence
Granted based on the high levels of quality accorded by customers in surveys, who highlighted the facilities, services and rejuvenated image of the hotel
2009 - TUI UK & Ireland:
Travelife Gold
Hotels worthy of the Travelife Gold award are leaders in good environmental management practices and in the support to neighboring communities, affirmed TUI UK & Ireland, which recently accorded the hotel this distinction.