AWARDS AND ACKNOWLEDGEMENTS
---
2019 - TripAdvisor: Certificate of Excellence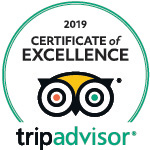 Award for the hotel's hospitality and popularity on the world's largest travel website, granted for achieving the highest score from its clients on a regular basis.
---
2015 - HolidayCheck: Recommended on HolidayCheck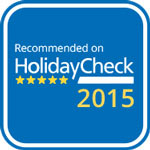 Our hotel has been recommended on HolidayCheck 2015! Thanks to the ratings awarded by travellers on HolidayCheck, the largest independent hotel review website in the German language, we've been rewarded with its 'recommended hotel' status.
---