Due to the Covid-19 health crisis, our hotel operations have been adapted to guarantee safety for our customers and compliance with regulations. These changes may affect some services.
AWARDS AND ACKNOWLEDGEMENTS
---
2020 - TripAdvisor: Travellers' Choice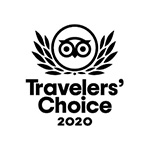 Each year, TripAdvisor's Travelers' Choice Awards globally recognizes the commitment to excellence in the travel industry based on the opinions and ratings of travelers and industry professionals. An award for outstanding dedication.
---
2019 - TripAdvisor: Certificate of Excellence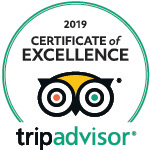 Award for the hotel's hospitality and popularity on the world's largest travel website, granted for achieving the highest score from its clients on a regular basis.
---